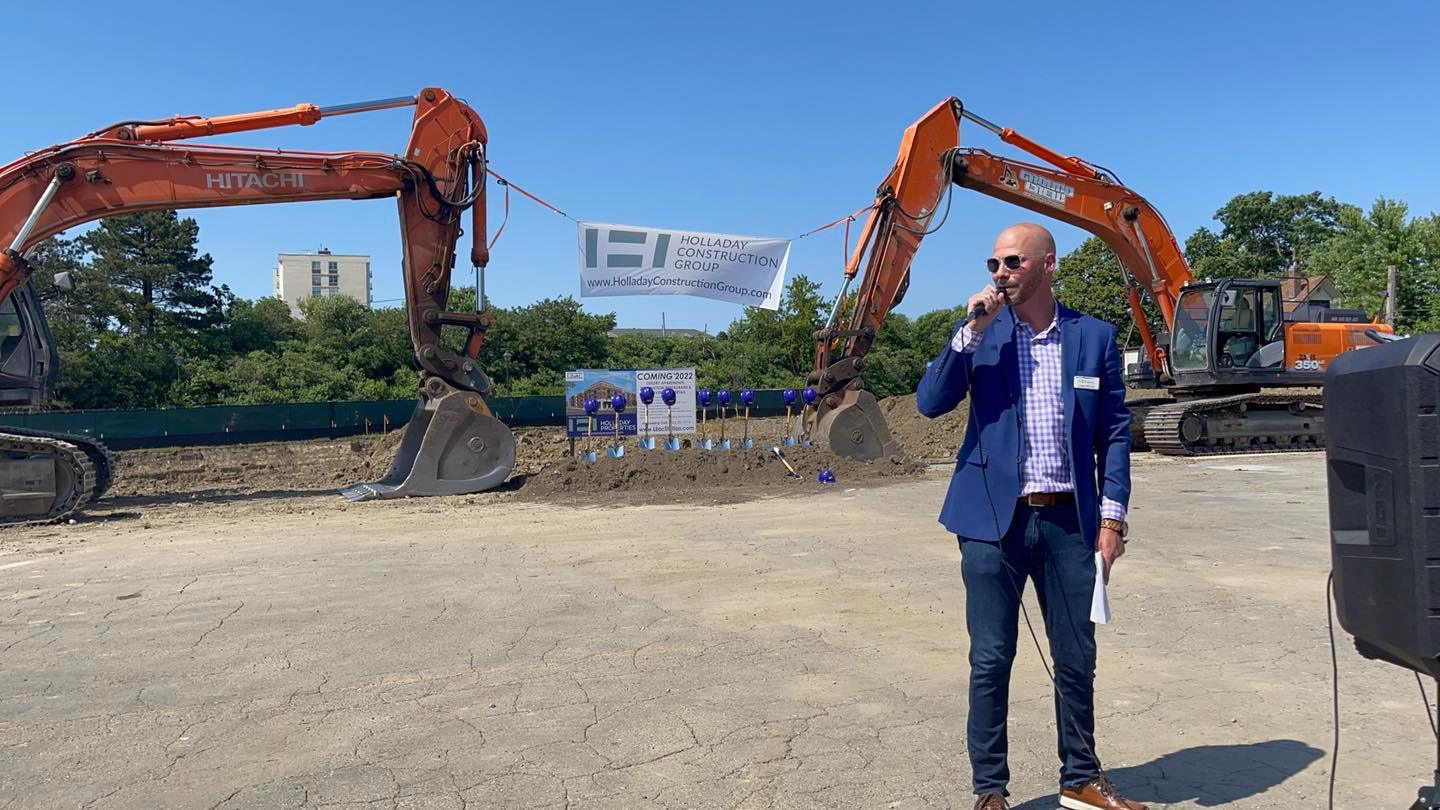 Welcome to the Lilac Station blog, where we will be sharing weekly progress updates for our construction (Holladay Construction Group), community events, team building, and more!
This past week we celebrated the groundbreaking ceremony at 101. S. Main St. soon to be known as Lilac Station, our fifth luxury-apartment complex in the Chicago suburbs. This sight has seen many uses, as originally a single-family residency, to an auto-repair facility, and eventually to become the DuPage theater in the roaring twenties. This ceremony marks the beginning of a forward step in the progression of the great town of Lombard, IL. Our development will pay tribute to the historic aspects of this site by incorporating familiarities from the DuPage theater.
Speakers at our event included Lombard's Mayor Keith Giagnorio and Holladay's Drew Mitchell – Partner, Vice President of Development, and Tim Healy – President and CEO. They spoke through the 91 degree heat, and explained the importance of this site and what it is to be. It will not only represent Lombard's historic past, but a look into the bright future of a growing community in Lombard.
Our site will consist of a 5-story, 118 unit luxury apartment complex. Our quick and easy access to the UP-W Metra railway will bring roughly 150 new residents to this great community. Just south of the building we will be constructing a 11,000 sq. ft. commercial building.
Our 15,000 sq. ft. amenity deck will include a dog run, grilling station, outdoor T.V.s, a fitness center, and clubhouse. The building will contain two levels of heated indoor parking, a bike studio, and electric vehicle charging stations. Each unit will represent a welcoming home to residents from all corners of the country, looking to bring themselves to the great state of Illinois.
Thank you to all who came out to join us in celebrating the groundbreaking of Lilac Station.
Stay tuned for updates and exciting news to come!
Facebook: @LilacStationLombard
Instagram: @LilacStationLombard
Twitter: @Lilac_Station